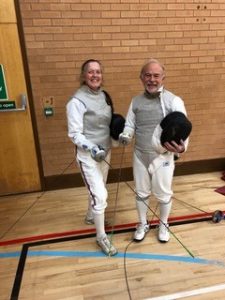 Andy started fencing with Bath Sword Club in 1966 initially with foil then sabre. It was a very friendly and active competitive club with about 20 members.  Lynne started in 1973 and we got married in1977. During the next 40 years we together with the rest of the committee built a highly respected and successful club. We devoted many hours of our time looking after new fencers and  running most of the junior and adult courses. Lynne with her teaching skills coached at many schools in Bath, sometimes as many as 8 or 9 per week.which fed more members into the Club. Club membership grew to over 200 with the club employing 6 professional coaches and training was on 18 to 20 electrical boxes. We ran 24 competitions for club members each year. When Andy retired we formed a double act. We taught hundreds of children over the years. We were very proud when some of them achieved excellent results in age group competitions and were selected to represent the Great Briton Squad. Two were on the "Olympic Pathway" elite squad training for London 2012 and another became World U20 Epee champion.
Andy  has been County and South West Captain and has achieved a range of results in Club, County, Section, National and International competition:
14 times Somerset county champion
7 times South West Master at Arms
2 times  Great Britain Veterans Master at Arms
1971  Gold at British Polytechnic Championships
1978  Winner of the National Coaches Trophy
1981  Awarded "Tudor Rose" for representing England in Rest of Britains matches
1985  Awarded England Colours by fencing in the quadrangular.
1990  Winner of the South West sabre championships.
1990  Ranked No: 11 on the National Sabre Rankings.
2000  Winner of the Ridley Martin trophy – ( National)